Real-time private Virtual Offices are available for unlimited use by Company Teams and Alliance Members.
What you need to know:
We recommend the Chrome web browser or any browser supporting WebRTC
Real-time Virtual Offices use the microphone and camera on your computer
Each Company and Private Alliance has a private Real-time Virtual Office available any time
Access the Virtual Office via the Virtual Office tab in your Company or Private Alliance
Schedule your time in the Virtual Office with your team members
Take advantage of the chat and screen sharing features

Troubleshooting tip:
You should see an access request when you enter the Virtual Office. You must provide access to participate.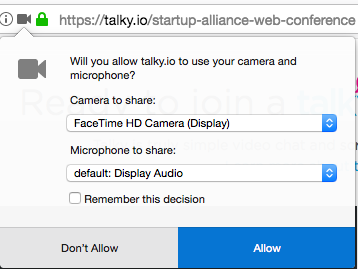 If you have problems, check your browser settings and make sure you are using a supported web browser. (Chrome, Firefox, Edge, Opera.) Here is a link to the WebRTC test page.